How refreshing is it to see a young girl dress appropriately and stylishly?
Hailee Steinfeld is only 14 years old, and if you have seen True Grit, you don't need me to tell you how incredibly talented Hailee is. Her dress from the Screen Actor's Guild awards hit all the right style notes - bright, fun, and colorful. There was another style standout at the SAG awards - here.
The dress is from the
Prada
Spring/Summer 2011 collection. The dress went down the runway in a shorter version, but it was just as exuberant and chic!
Stripes in general are majorly in style for spring, but if you are wanting more of a simple stripe (navy and white; black and white), see this previous post on nautical stripes.
While a simple nautical stripe is classic and lovely, bright multi-colored stripes are fun and unexpectedly chic.
Bubblegum stripes
are a big trend for spring - and now you can get the Prada look for less. This
Anthropologie
shirt (pictured below) is $68 and completely nails this look. Pair it with light wash '70s flare jeans and flip flop for a casual summer look.
If you are wanting a dress, you can get the look with a beautiful
Shoshanna Midnight Tie Dye Striped Tullip dress
. It might not be the same color scheme exactly, but I love the bright navy/charcoal colors - perfectly complementary!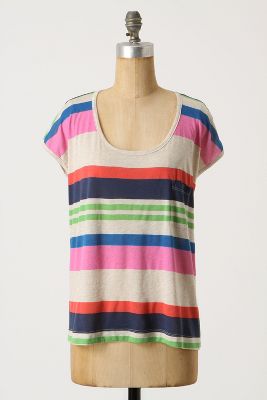 Photo Credit: via
Purple Stripe Style
Don't forget to enter the Mrs. Press giveaway going on now for all of our Australian readers; it's easy to enter - and you have until March 1 to enter.
Oh, and a very happy Valentines Day to you! xoxo!
Do you like bubblegum stripes?