Photo Credits: via decorpad; via z gallerie
Happy New Year! I hope all of you are enjoying 2012 so far. What better way to start a new year than with a fresh Look for Less post? I am a lover of bold colors but I always resort to the same palette for my home, white. It's so clean and simple. Using white in your home let's your colorful accessories take center stage. In my apartment I don't have a designated dining area because I usually end up eating while working on my computer. But when the time comes, all I want are white upholstered dining chairs.
This

breakfast nook

(pictured above) is simply divine!
I love the built in bench, rustic chandelier, and dark wood floor. Most of all, I love the dining chairs. They fit the color scheme perfectly and offer a lovely contrast to the dark floors.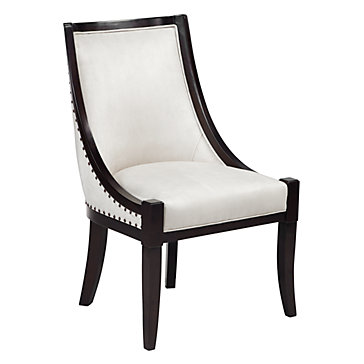 When it comes to upholstered dining chairs,

Z Gallerie

by far offers the best selection. The store's

Scallop Dining Chair

(pictured at left),

Marseilles Dining Chair

,

Waterloo Dining Chair

, and

Lola Side Chair
are just some of their gorgeous options in their beautiful collection of dining chairs. Although beautiful, buying multiple chairs could easily become pricey.
Target and Ikea both offer inexpensive options that are just as chic.
As the name suggests, they would make just as attractive side chairs.
Perfect for those of you who look for versatile pieces as much as I do.
For those of you wondering how you would ever keep white furniture clean (and in the dining room of all places), try these Palma Faux White Leather upholstered

dining chairs from Target

.
They are not only affordable, but they would be much easier to clean.
Ikea's Henriksdal Chair
is a contemporary option that can easily be slipcovered when you are ready for a change. It may be best to slipcover the chair in white (even though it already is white) so you can just toss the covers in the wash when they get dirty.
If you love white in your home like I do, you should give upholstered white dining chairs a chance!
Get more of Marche's tips on interior design, fashion and more at her fabulous blog,
EyeCandy
. And, remember to look for her interior design column here on Young Sophisticates!